It's March! Spring can officially come (thank goodness, because I need spring to come. Badly.). And with Spring comes Spring Cleaning, which is definitely NOT my favorite part of Spring, but needed nonetheless.
And, hooray! Shaklee's special from February is continuing through March, so spring cleaning is greener, easier, and just generally a more pleasant experience. I hate chemically smelling cleaners, so Shaklee's natural, non-toxic cleaners are my saving grace.
Seriously, people, I'm a mediocre cleaner at the best of times. It takes something impressive to get me to look forward to spring cleaning.
So here are the details:
Remember this post a while back about cleaning my oven without nasty chemicals?
I used my Scour Off:
I am still using that SAME tub of Scour Off to clean not only my oven, but to scrub tubs and sinks, to get the burnt goo out of pots and pans, to give my stainless appliances a facelift (but only using it very lightly, remember, so I don't scratch my stainless!). I use it all the time, and still have tons left!
And remember how I use my Basic H concentrate to make my all-purpose cleaner, my degreaser, and my window cleaner? I have been using this bottle of Basic H for everything, including bathing kids and dogs, washing produce, making a daily shower spray, EVERYTHING! It's my go to cleaner, I've been using it steady for 18 months, and I still have this much left in the bottle:
Economical much? I think so, yes!
That only partially covers the cleaning line, but there are also all the amazing products for my health. Vitamins, meal replacement shakes, supplements to boost my immune system, supplements to battle the winter blahs, everything. So in one swoop I have made my home healthier and our bodies healthier.
So here is another chance for you to give your family the same gift!
Visit my website, just click here, and get your own Get Clean Kit, and with it you'll get a free lifetime Shaklee membership and a canister of my favorite protein smoothee (a $67.95 combined value). No monthly minimums, no membership renewals. Buy what you need when you need it. There is even a 30 day money back guarantee. Not that you will need it, because I know that you won't!
So, to recap, buy this:
Get this:
and this: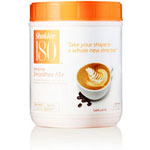 for free. Yay!
For more information on my Shaklee March Special, visit my website
here
.
Or feel free to
contact me
to answer any questions!